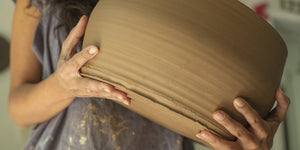 The Soul
Behind LUXAT
I am Natalie Flores, the heart and soul behind LUXAT. I'm an industrial and graphic designer, who at some point, fell in love with the interception of ceramics and product design. I mix traditional pottery techniques with my own modern-primitive design philosophy to create a series of objects that range from purely abstract to lifestyle functional pieces for the contemporary home. I privilege the naked clay, which I fire at very high temperatures, and mix it with my personal glazes as to form an integral material, with a unified graphic and structural character. I plan, produce and fire at my studio in Miami, South Florida, where I built my own gas kiln
MY STORY
Pat Bosch
LUXAT designs are the true embodiment of technique and intellect. Natalie brings emotion, passion, insight and expertise in each of her creations. Her art is intentional, meaningful, and insightful. She has an undeniable signature of craft and precision where an expression emerges with a unique voice and message.
Design Director
Perkins and Will
Carola Bravo
Extraordinary art objects that are familiar enough to understand them intimately with our bodies and, at the same time, curiously marvelous to hold our attention at a distance. They are the result of countless hours under the action of heat previously shaped by skillful, conscious, and heartful hands.
Founder, The Hartvest Project
Video/visual artist.
Architect Ph.D
Vicente Antonorsi
The ceramic work, by Natalie Flores, has charm, freshness, great technique, it sustains itself, and speaks very well to the hands that touch it. All the work of Natalie Flores that I have encountered is highly recommendable.
Visual Artist
Architect